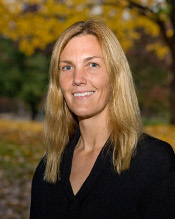 Beth M. Huebner is a professor in the Department of Criminology and Criminal Justice at the University of Missouri-St. Louis. Her principal research interests include the collateral consequences of incarceration, racial and gender disparities in the criminal justice system, and public policy. She is currently serving as principal investigator for the St. Louis County MacArthur Safety + Justice Challenge which is tasked with reducing the jail population in St. Louis County through systems reform.
She is also collaborating on a study of monetary sanctions in Missouri and is part of the Misdemeanor Justice Project. Both projects are supported with funding from the Arnold Foundation and are designed to consider how small contact with the criminal justice system can influence future criminal justice contact, life trajectories, and broader crime trends. She has worked on collaborative projects with the Missouri Department of Probation and Parole, the St. Louis Metropolitan Police Department, and the Missouri Highway Patrol.
She serves as the current chair of the Division on Corrections and Sentencing for the American Society of Criminology. She is the editor for the Oxford Bibliographies in Criminology and is Associate Editor for Criminal Justice and Behavior. She earned her PhD in Criminal Justice from Michigan State University in 2003 and has worked at UMSL for 16 years.